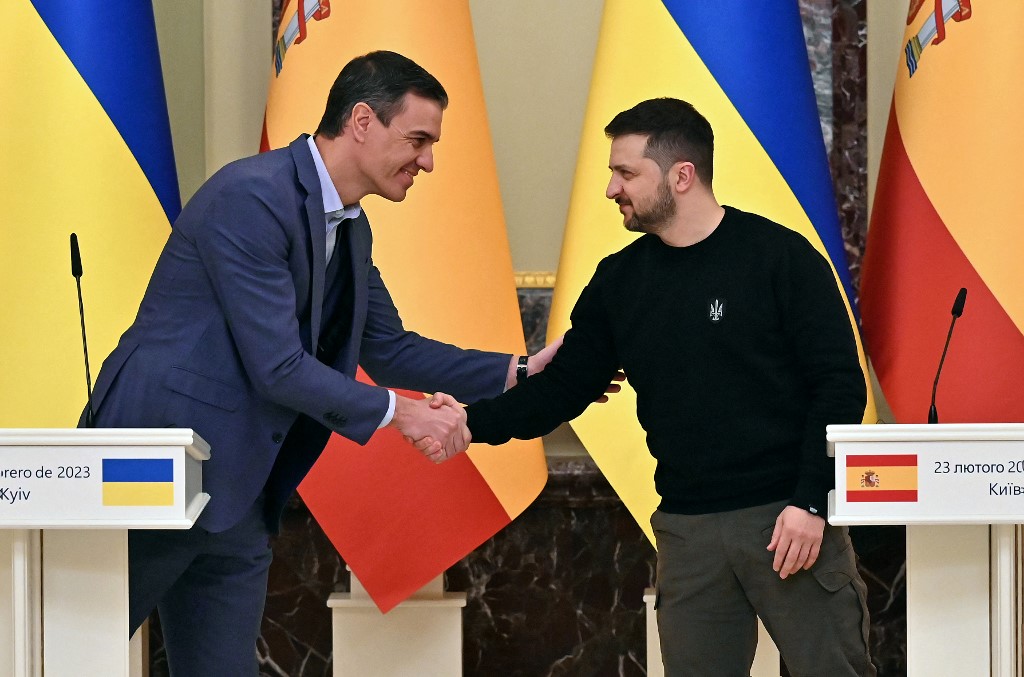 Spain's PM commits to send more tanks to Ukraine
UKRAINE
Spanish Prime Minister Pedro Sánchez said Thursday during a visit to Kyiv that he hoped to send ten Leopard tanks to Ukraine in the coming months.
Published: 24 February 2023 09:43 CET
Updated: 24 February 2023 11:46 CET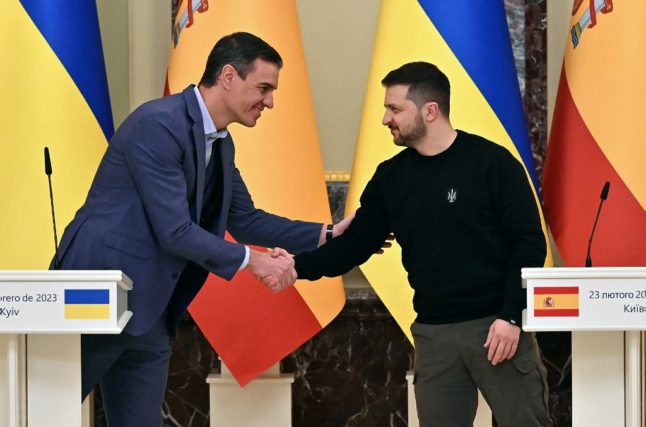 Ukrainian President Volodymyr Zelensky (R) and Spain's Prime Minister Pedro Sanchez shake hands during their joint press conference following their talks in Kyiv on February 23, 2023. – Sanchez arrived in Kyiv early on February 23, 2023 in a show of support ahead of the one-year anniversary of Russia's invasion of Ukraine. (Photo by Sergei SUPINSKY / AFP)
Speaking to reporters alongside Ukrainian President Volodymyr Zelensky, Sánchez said Spain was sending six Leopard tanks now and hoped to send four later.
"Our intention is to see if we can bring this to a total of ten in the weeks and months to come," he said.
Zelensky praised the Spanish prime minister for visiting the war-torn country for a second time since Russia invaded it in February last year.
"I hope that this start of Ukrainian-Spanish cooperation will be followed by other decisions that will allow us to liberate our homeland as soon as possible," he said.
"Ukrainian soldiers are already learning how to operate these (Leopard) tanks in Spain," Zelensky added.
The Spanish prime minister's visit came shortly after US President Joe Biden made a surprise trip to Kyiv on Monday and a day later, Italy's Prime Minister Giorgia Meloni also visited Ukraine.
On Wednesday, Spanish Defence Minister Margarita Robles confirmed that Madrid would send six of its German-made Leopard tanks to bolster Ukraine's fight.
As for the aviation support that Ukraine has been requesting for months, Sánchez said he would discuss the issue with other Western nations.
"Obviously it's something that we will have to discuss with our allies both at NATO and at European level," he said in Kyiv.
"This is not just about Ukrainian security, this is about European and global security," Sánchez said, adding that Russian President Vladimir Putin "has given us daily reminders of why we support Ukraine".
Before his meeting with Zelensky, Sánchez visited Irpin and Bucha, the two small towns where Ukraine and the West say the Russian army committed war crimes.