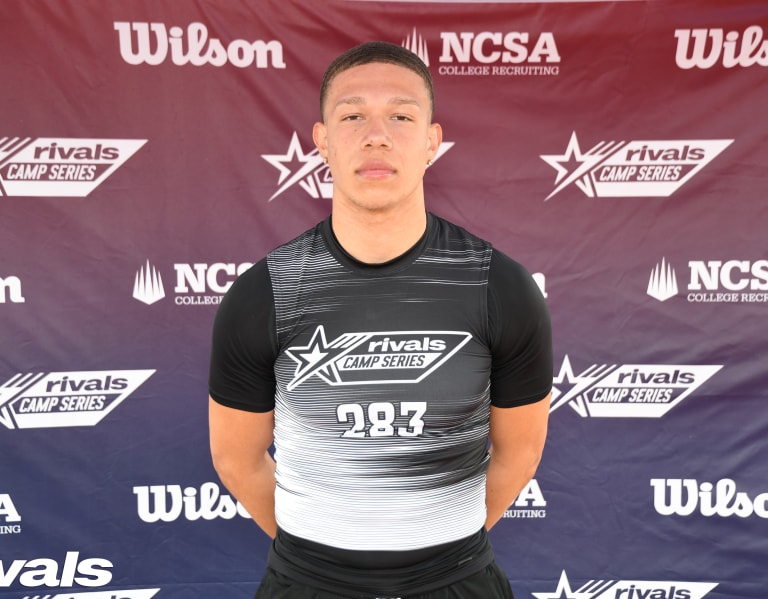 Rivals Camp Series Los Angeles: Prospects that outperformed their ranking
DOWNEY, Calif. – The first stop of the Rivals Camp Series was Sunday at Warren High School and a number of players outperformed from where they're currently ranked. Here's a look:
Gresham more than looked the part at the Rivals Camp and that was not the only time this offseason as he was impressive both ways at the recent Passing Down 7-on-7 tournament as well. The low three-star from San Jacinto, Calif., can star at receiver or defensive back, he has excellent size, moves well and already has nearly a dozen offers.
*****  
The Santa Ana (Calif.) Mater Dei four-star cornerback has moved up and down the rankings as the 2024 class has been refreshed over time and he's a fringe Rivals250 prospect now. Another strong performance should bump him up a little more. Dunbar-Hawkins is not the fastest or the most athletic corner in the West but he has incredible instincts and never gives up anything easy.
SHARE YOUR THOUGHTS WITH UCLA FANS AT BRUINBLITZ.COM
*****  
Ranked No. 32 at the safety position, there are six three-star players at that position who are ranked ahead of him and it feels like Davis could easily move up a little. He's a physical, hard-nosed defensive back who can move and while he didn't win every rep during 1-on-1s at Sunday's camp, the Santa Ana (Calif.) Mater Dei prospect had an impressive showing and he's even better with pads on.
*****  
Bellflower (Calif.) St. John Bosco is so loaded at linebacker that House got a little lost in the shuffle last season but now with Deven Bryant – who House is similar to – is off to Washington then he could shine even more. Jordan Lockhart and Kyngstonn Viliamu-Asa are still the top dogs but House can run, cover, hit and he's starting to see his recruitment take off. He looked good on Sunday as well.
*****  
Johnson is not a finished product and still is pretty raw as a defensive end but the three-star has outstanding size at 6-foot-5 and 230 pounds and is supremely athletic. Sometimes, he needs a better plan when he's going against an offensive tackle but from athleticism to length to playmaking ability, Johnson has a tremendous amount of upside.
*****  
The state of Utah routinely has a number of under-ranked players mainly because they're not seen numerous times at national events and then many go on their LDS mission and come back two years later bigger, older and wiser.
Dillon should be on watch for a bump in the rankings because while he didn't dominate totally at the camp, he has the physical size and athletic ability to be special down the road. He also worked out at tight end but my bet is that the Draper (Utah) Corner Canyon standout is best coming off the edge.
*****  
Just by looking at him, Andrews is not a surefire four-star but the mid-three-star from American Fork, Utah, plays like one as a defensive back who never gets burned, never bites on double moves and is always right in stride with the receiver down the field. At 6-foot-2 and 190 pounds, Andrews has length, speed and he's super smart as a defensive back.
*****  
The Phoenix (Ariz.) Sunnyslope standout wanted to come badly to the Rivals Camp on Sunday to prove he's one of the better quarterbacks in the West, if not the country, and Moga definitely impressed at times.
He has good size, he's smooth in his drop and then the high three-star delivers the ball on time. Is he a four-star? We will consider it and I'm not thrilled with his low completion percentage last season but there's no doubt Moga has a ton of ability.
*****  
Wrightster has not had a ton of opportunities on the field yet but after transferring from Chatsworth (Calif.) Sierra Canyon to Mission Hills (Calif.) Alemany the 2024 low three-star quarterback should have a big season ahead. The 6-foot-3 quarterback is smooth, has a big arm and he was really accurate at Sunday's camp. While some offers are already on the table, it could get much busier during his senior year.
*****
Rhaney is a thick, barrel-chested running back who had a huge junior season but also showed off good speed and playmaking ability on Sunday. After rushing for 1,666 yards and 15 touchdowns on a whopping 224 carries last season, Rhaney has proven he's better than a low three-star ranking.
There are still a few questions on top-end speed but he cannot be taken down with arm tackles, he's a tough runner and blocking won't be an issue.