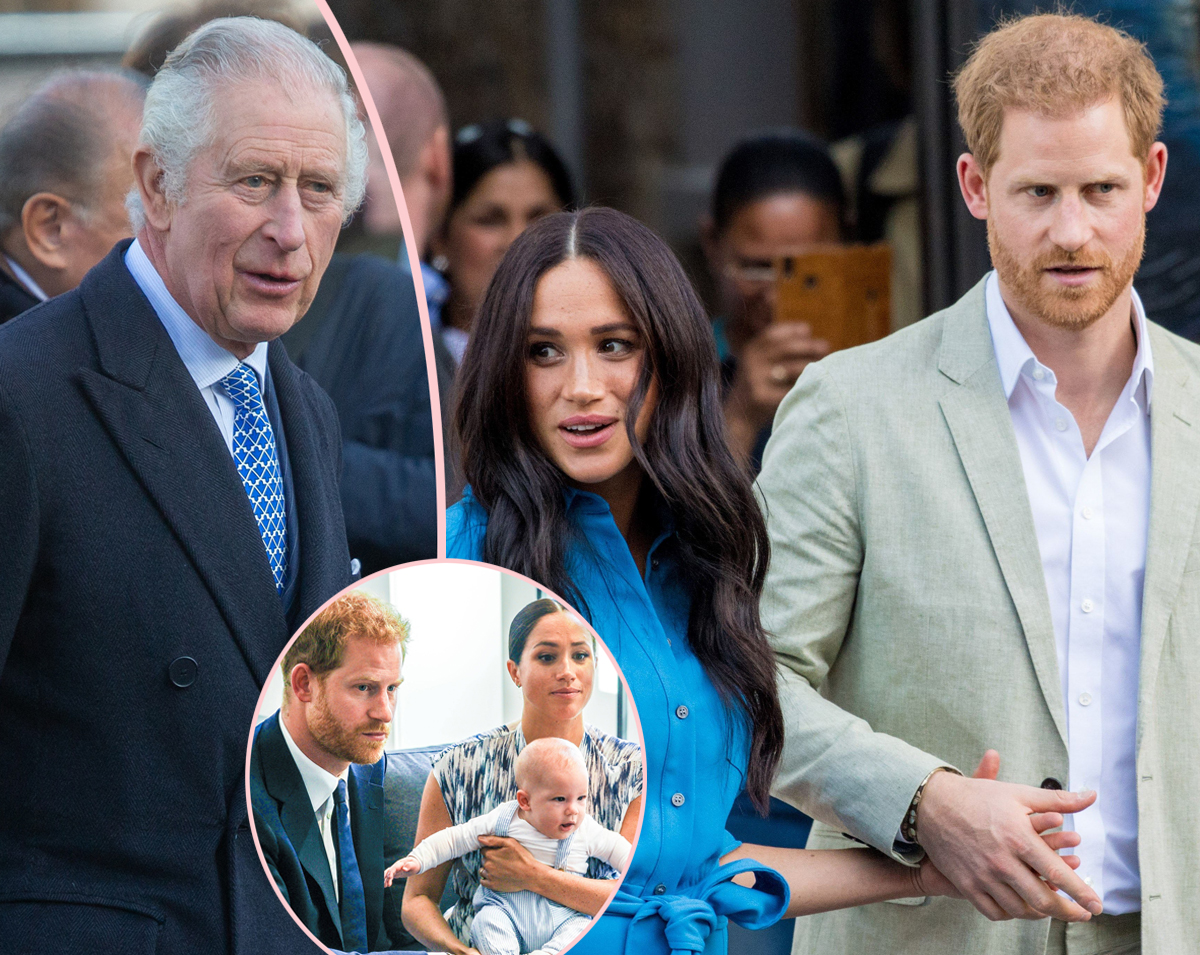 Prince Harry & Meghan Markle's Kids Reportedly Have Not Been Invited To King Charles' Coronation!
While Archie and Lilibet received their titles of Prince and Princess, respectively, the one thing they do not have? An invitation to the their grandfather King Charles' coronation ceremony in May.
As we previously reported, Prince Harry and Meghan Markle were finally asked to attend the coronation via email after months of speculation about whether or not they'd be invited. A spokesperson for the couple said at the time:
"I can confirm The Duke has recently received email correspondence from His Majesty's office regarding the coronation. An immediate decision on whether The Duke and Duchess will attend will not be disclosed by us at this time."
Despite the Sussexes receiving an invite, The Sunday Telegraph reports that their 3-year-old son and 1-year-old daughter were not included in the correspondence with Buckingham Palace about the coronation at the time. And when asked about their potential invitation to the event, a royal source claimed the palace officials thought they were "very young" to attend. Yikes…
Related: Buckingham Palace Making Special Plans For Meghan & Harry To Attend

Meanwhile, Prince William and Princess Catherine AKA Kate Middleton's two children – 9-year-old Prince George and 7-year-old Princess Charlotte – are expected to attend, with their eldest son having a big role in the bash. As for their youngest son Prince Louis, who turns five years old next month, the couple is reportedly still "pondering" whether to include him. The report further alleged that Queen Consort Camilla's five grandchildren will not only be present for the historic event but will also have official roles in the coronation.
Yeesh! Is this a subtle way for the royal family to snub Meghan and Harry by giving Camilla's grandchildren a part in the ceremony and not even extending an invite to allow Lilibet and Archie to attend?!
However, the outlet noted that it's believed the royals are willing to discuss the two children's attendance at the coronation if Meghan and Harry decide to RSVP yes. At this time, no official decision has been announced by the 41-year-old former actress and the 38-year-old prince. If they do come to the festivities, though, King Charles reportedly plans to make sure there is no awkward tension between the feuding family members:
"Harry will be welcomed by his family because it's important to his father. There won't be any outward signs of friction or attention on past family squabbles. Everyone wants to ensure the focus is on the coronation."
That makes sense. But let's be real! The chances of no "outward signs of friction" seem very slim. Prince Harry and Prince William can barely be in the same room as each other sometimes! Not to mention the fact that the Prince of Wales doesn't even want his younger brother there in the first place. And now that King Charles reportedly snubbed the duo again and hasn't invited Meghan and Harry's little ones? Keeping things civil for the sake of the coronation might be wishful thinking!
What do YOU think, Perezcious readers? Do you think it was a snub that King Charles never invited Archie and Lilibet? Let us know in the comments below.
[Image via MEGA/WENN]