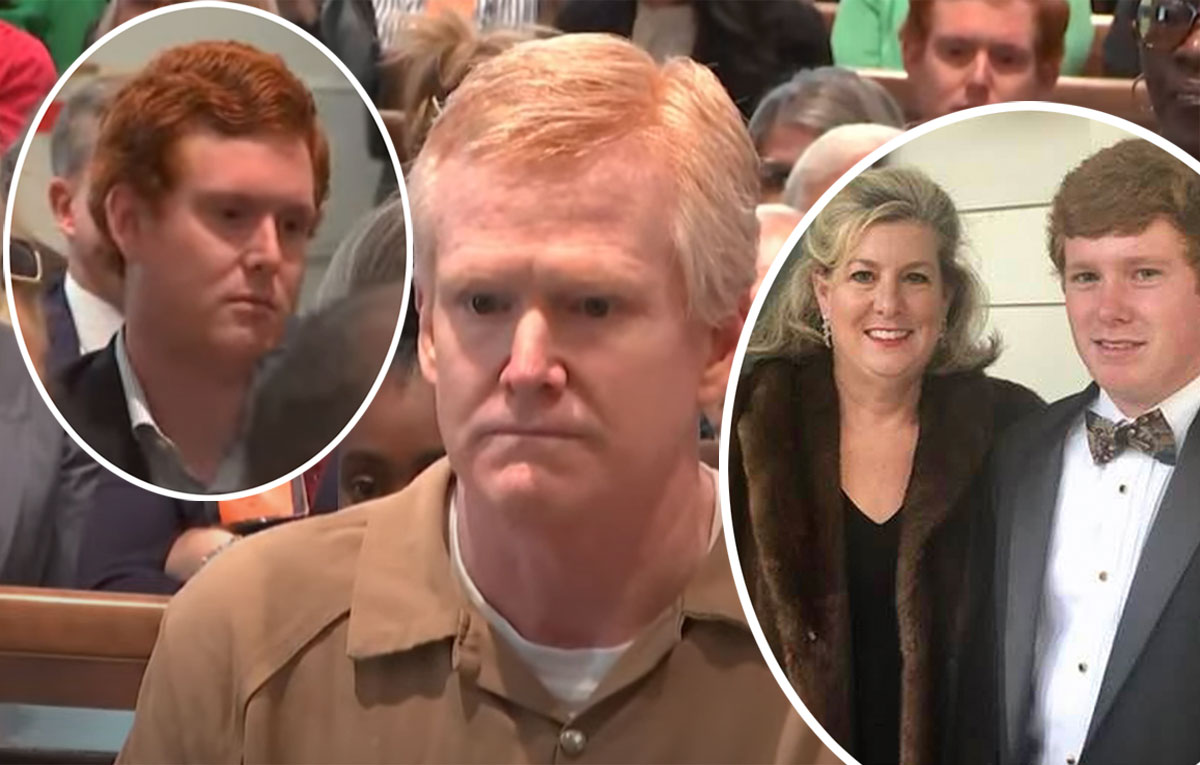 Alex Murdaugh Sentenced For Murdering Wife & Son – But Still Said WHAT In Court?!
It's official. Alex Murdaugh is headed to prison for a very long time.
On Friday morning, the disgraced South Carolina lawyer got handed his prison sentence after he was found guilty of murdering his wife, Maggie, 52, and their youngest son, Paul, 22. For the two counts of murder, he got two life sentences! Not only that, they will run consecutively, meaning he will serve them back to back. Thought that hardly matters in practice as he also won't be eligible for parole ever with even one.
The judge didn't question the prosecutor's decision not to seek the death penalty, but he did note that over the "century" in which the Murdaugh family, including Alex, has been prosecuting people in the same courtroom, "many have received the death penalty — probably for lesser conduct." It's true, life sentences are actually pretty rare in South Carolina.
Related: NXIVM Sex Cult Leader Keith Raniere Predicts His Own Murder In Prison
According to People, ​​Alex addressed Judge Clifton Newman before the sentencing, pleading:
"I'm innocent. I would never hurt my wife Maggie. And I would never hurt my son 'Paul Paul.'"
Yeah, a little late for that. Prosecutor Creighton Waters wasn't buying anything the alleged fraudster was selling as he asked the court for the consecutive life sentences. He called Alex a "cunning manipulator, a man who placed himself above all others, including his family," adding:
"A man like this man should never be allowed to be among free, law abiding citizens again."
To prove his point, Waters also noted that during the trial, any time the alleged criminal would walk by him, Alex would give him a stare-down — presumably to be intimidating. Before handing down the sentences, Judge Newman addressed the alleged murderer at length, and he did NOT hold back. His Honor, who had already praised the jury for coming to a swift guilty verdict based on the facts of the matter, suggested the defendant is likely haunted by what he's done, sharing:
"I know you have to see Paul and Maggie during the nighttime when you're attempting to go to sleep. I'm sure they come and visit you."
After Alex once again maintained his innocence, the judge clapped back, saying:
"It might not have been you. It might have been the monster you become. When you take 20, 40, 50, 60 opioid pills, maybe you become another person."
Oof. No mincing words here!
Related: Kim Kardashian Was Given ABSURD Amount Of Cash By Malaysian Fugitive!
As we've been following, Maggie and Paul were shot dead on their family's property near the dog kennels on June 7, 2021. Alex was immediately the number one suspect, though he tried to deny the speculation by claiming he wasn't at the scene of the crime when it happened. During the trial, however, he was forced to admit he'd lied about his whereabouts that evening, greatly damaging his credibility. He argued he lied due to his 20-year substance abuse addiction, thus why Judge Newman suggested his drug use could have impacted his decision-making. But there was also tons of other evidence that put him in a bad light, such as phone data and witness testimonies.
While this is a major blow to Alex, he's actually not done with the legal trouble. He is also facing numerous charges for alleged financial crimes, such as defrauding the family of his former housekeeper out of the $4.5 million insurance settlement they were owed… after she died in a mysterious accident at the Murdaugh home. Trial for all these crimes will be held at a later date.
You can see how Alex and his surviving son Buster reacted to the sentencing (below).
Thoughts? Let us know (below).
[Image via Life&Crime Network/YouTube & Maggie Murdaugh/Facebook]